Houston, TX  January 21, 2013 —  CareWorks, a Houston senior care provider, is keeping up with the latest elder care methods and techniques to better assist local seniors and their families. They have recently introduced an updated Memory Care Program that offers a higher level of home care and a higher quality of life for individuals suffering from an age-related cognitive disorder like Alzheimer's/Dementia or Parkinson's.
The benefits of the updated memory care program are numerous and include better communication, more independence, less stress and a safer living environment for the person with memory disorder as well as less stress for family and professional caregivers.
Alzheimer's disease is one of the largest public health problems facing the nation today. As many as 5.4 million Americans are living with the disease and nearly 15 million are acting as family caregivers. The baby boomer generation is growing older and age is the greatest risk factor for developing Alzheimer's and related dementia.
According to third generation Houstonian and CareWorks president William Hardy: "Our new memory care program takes a holistic approach in providing specialized care to seniors in their own home. We evaluate the whole person and put a comprehensive plan of care in place that addresses physical and mental stimulation, nutritional needs and the need for emotional support". Houston senior care providers are expected to provide care under complex circumstances, addressing the physical and emotional needs of an elderly or an infirm individual. "Home care agencies that offer disease-specific training for staff and special care programs for clients are being recognized for a higher level of satisfaction" said Hardy.
Families have a number of options today when deciding on memory care for a loved one. Often these decisions are made during stressful times. Not only does CareWorks strive to provide complete information about their services but they can also be a resource for other third party care options.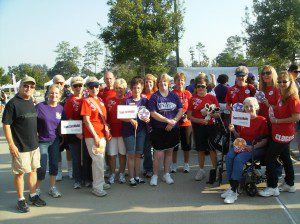 In addition to their memory care program, CareWorks is involved with local communities and charities and in the fall of 2012 helped raise over $102,000 for the Alzheimer's Association through The Walk to End Alzheimer's in Northwest Houston. The Walk to End Alzheimer's is a fund raising event sponsored by the Alzheimer's Association to raise money to advance research into prevention, treatments and a cure for Alzheimer's. For the millions of people already suffering from the disease, they offer support resources in communities nationwide.
About CareWorks Memory Care Houston
When deciding on seeking outside assistance, families in Houston, Texas can turn to CareWorks, a team of highly qualified professionals providing non-medical home care, memory care, companionship home care and assistance for the elderly and those recovering from an illness or injury. CareWorks' staff is experienced in providing a full range of care, from basic home care and companionship to the most challenging of situations. Their aides are carefully screened, insured, bonded and trained so you can trust you are getting the best possible assistance.
Serving Houston senior care needs including North, Northwest Harris County and surrounding areas of Houston, CareWorks offers medication reminders, meal preparation, laundry services, appointment escorting, light housekeeping, companionship services and disease-specific home care.
To learn more about the home care services of CareWorks visit their website at: careworks.biz
###
Company Contact Information
CareWorks
1601 Industrial Blvd, Suite 3002
Sugar land, TX 77478
Tel: 832-237-2273
Google+ Verified Local Business